New Zealand's MATHEW COCHRAN
takes the LaDy out on a date.
''i could lean her right over both ways...''

It only happened once. It was the first time we were to race at the Mt Wellington Kart track. I'd organised the affair and only days before i'd managed to seize my GP175. I'd bought a new chamber from west coast and had been giving it assholes on the motorway, as you do, when it had a de power.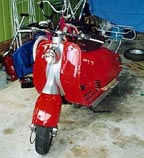 So I looked at my dusty LD150 sitting in the corner of the shed and thought, what if. So i stripped off the centre stand and headed off for our 1st race day.

I'd bought some racier rubber for the 8'' rims so i was happy to get the old thing over a little. Once i was out at the track i realised i had more clearance issues than just the stand. On the right hand bends i was dragging the base of the kickstart. The poor thing was wavering about as the thing ground at its base so i pulled the lever as well, but not the lever base bracket. Now the practices were getting interesting,

i could lean her right over both ways to the point i was scraping the floorboards. Considering the capacity and years I was giving away to some PX200s they never got away. It has to be said the guys on them were new to scootering and finding their feet a little on the track. But it made me and the LD feel better as i could brake later, and ride under them. On the straights they'd claw me back and then in the corners i'd recover the lost ground.

There was a good range of bikes in the field that day. Standard ss90's, a Cezetta (repowered with a honda CB250), ss180's, PX200s and a PK135. Turned out to be an awesome introduction to racing, and very cool aboard an old machine.

Given that the GP is now going, the LD is again relegated to the corner of the shed. I've thought about 'tuning' her before, getting the west coast barrel tune done. And having seen the carb graft on this website, it maybe something that i add to my project list. Locals have told me I'm mad to tune an LD. Leave it alone they say, you'll create more problems than you fix. But it would be great to have an LD appearance with a little extra under the hood.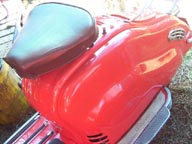 So thats my LD race story, the GP is suffering the abuse now, until that is it depowers again and then and only then will the LD hit the track again.