E-mail in a couple 'o' pics
and a few choice words about your Lambretta(s).
Click these pics for THE BIG PICTURE.
''Hi Jonbretta, Im writing from Australia for your help please. My 57 LD Mk3 ( photo attached ) is about to go into storage and Im wondering whether to drain all the fluids from her or leave them intact. Im particularly worried that an empty fuel tank might begin to rust. Should I fill it if so, with what to keep away the rust?
Also, any ideas on how to keep my whitewalls looking neat? Hope you can help, Russell''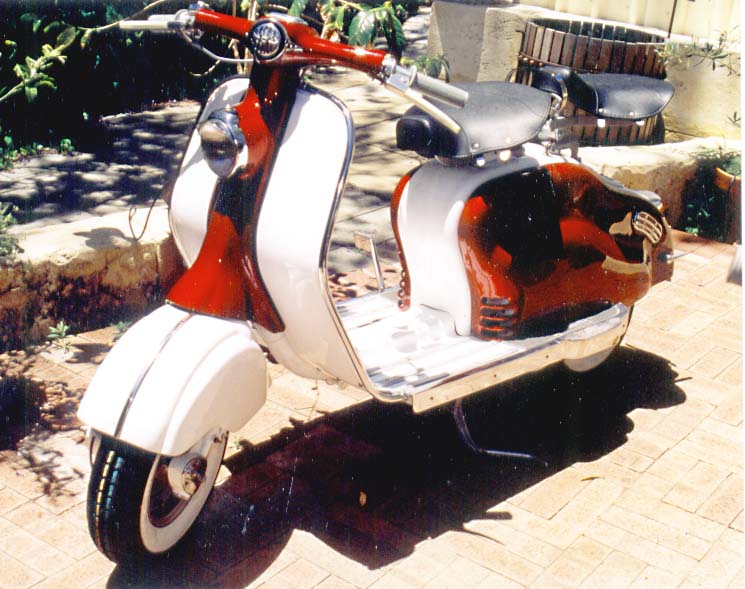 Perhaps someone reading this could write in with some suggestions regarding these matters to Russell and the rest of us.
Russell Bishop's email: bishoppartners@bigpond.com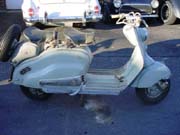 Check out this incredibly original looking MK II. These pics were sent in by Robert Bressier in Florida. Robert, feel free to send in some more background info on this scoot, hopefully describing how this specimen mannaged to survive in this condition!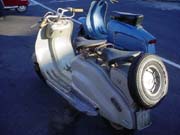 Hello' I send to you a picture from my Innocenti Lambretta 150 LD MKIII original from factory, 22590 km. (14118 miles) not restoration, not paw. All ORIGINAL. See:

http://www.scooterhelp.com/scooters/_150LD.3.html more pictures from my scooter.
Thanks. Cesar Lazcano Colodrero
Gavier 2737 V. Centenario
Cordoba, Argentina
E-mail: cesarlazc@arnet.com.ar
Tel.: +54-351-482-2924, Tel. Cel.: +54-351-155-222235


Ted McGregor says:
''Here is one of my 28 LDs and Ds.
I have three electric starts to use on my lazy days, mk1, mk2, and mk3''
Ted, send some pics of your electric-starts for my upcoming AVV section, if you would please, Thanx!


Hello, These are some pictures of my Lambretta LD125 Mark1 1952. greetings, Jan Schuurman, the Netherlands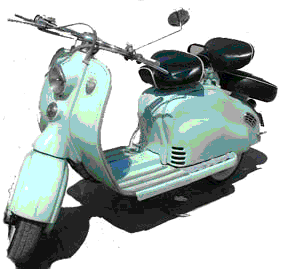 Michael Proft of San Diego, California here cites the history of his MK II LD: ''Purchased in Bombay India new in 1954. Brought (by his family) to Hong Kong,Taiwan, Java and Okinawa. Came stateside where it lived in garages for thirty years unused-unridden.
1985 brought from St. Paul, Minnesota to San diego where it was rebuilt and repainted a custom colr to reflect it's Asian heritage; China Green which is actually Sea Foam Green. I call her 'Celedon'.
Originally the bike had a third 'child's' seat on a bracket hung atop the spare wheel. My first memory of life was sitting on that seat. My father would drive it and my two brothers would be on board. My baby brother would sit on my father's lap. We'd go camping that way. It was a great childhood. An LD is as good as 10 mothers. ''
In Okinawa it was used as airfield transportation and the inside still sports the original airbase Safety Orange brushed-on paint, the outside since re-dressed in civilian attire. The motor was ported a few years ago, bringing performance up to par with it's appearance, and a battery was added to robustly power it's brakelight after a cop gave Mike a ticket for inadequate brakelight, which was working at the time. It's probably the most ridden LD on the planet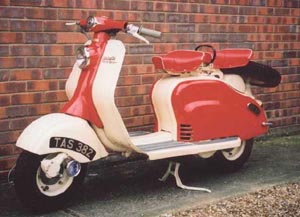 For Christmas Steve Chaplin was kind enough to send a picture of his (I assume it's his) MK III LD. The red seats really light up the looks of the scoot and set it apart. Can't you just see Santa on this?


A long time ago it used to be the norm to look down your nose at Servetas as the last choice in the Lambretta desireability ladder. Then came the SIL GPs, installing some new rungs on the bottom of the ladder and making Servetas alot more attractive by comparison.
Well I don't know if Mike Burks' GP was typical of the breed but he sure did a nice job of bringing it up to snuff and then some from the looks of these pics.


''Here are a few pics of my SIL GP 200 with TS1 kit and WCLW exhaust attached. Love to ride it with a pack of Harley's as they can't believe I can out do them on acceleration. Runs like a top--Mikuni 35TMX carb---never looked back when 1st cranked. Love Lambrettas and Vespas--- also, I have a Riva 125 for my wife as she likes the automatic trans.

I also fabricated an all aluminum long range 5 gal fuel tank for the TS1. I want to add a legshield toolbox and fuel guage. Good Luck, Mike Burks''

LG ARTICLE ON 7-20-03
Best of Both Worlds
(there ARE only 2, right? don't mess me up now...)
They said that it couldn't be done, yet incredibly, Martin Yee of Marin County ,Ca. has gone where no Lambrettaman has ever gone before (as far as I'm concerned anyway) and mated THE CLASSIC scooter styling of the fifties with Innocenti techno-magic of the later fifties, resulting in about a LF or LG, which he alone has the right to designate and here describe:


''I built this LD using leftover parts from my first LD project and am slowly replacing some of the more beat up parts with fresher ones as I find them. I had an extra LD frame that I cut off the seat arch and then removed the rear glove box and airbox, this was then welded onto a cut up Series II frame. It has a 200 cc Jet engine with stage four porting, GP crank and electronic ignition, and now has a WCLW expansion chamber and ScootRS front disk brake.


Almost every body part had to be altered to fit the series two frame and engine, only one side panel and foot board did not have to be altered. Modifications to the LD body work: legshield length shortened and inner arch re-contoured to fit series two frame, right hand side panel notched to clear kickstart, front fender reshaped to fit over new forks and horncasting shortened slightlly for clearance, all the control cables had to be fabricated as well because of the excessive length required.


I tried to use as much LD parts as possible to keep it looking as stock as possible.''
Faaabulous work, Martin. I hope to get to see and even ride this for real someday when I get up to ''The Citaaay'' to quote Steve Perry ( no, not Joe Perry, STEVE Perry!).

My friend Coltrane Tircuit sent me in this pic of my old SX200. In the mid 80s I bought from a professor at UC Berkeley the SX, a LI 125 III, and boxes of TV II parts which I built up and currently have, (runs like a top!). I rode the SX for a while, then sold it to Coltrane, who picks up the story thusly:


''Here is a pic of the scoot you sold me that I sold and luckily bought back. The guy I sold it to painted it red and black, so I did my best to get it back to original. I rebuilt the engine, painted it, and reassembled it myself. The paint came out pretty good - almost as good as the picture looks ; ) The engine runs great.
I really appreciated your site's assembly instructions for getting all the panels straight. Worked great.
One part of making adjustments that you don't address and that I can't get straight: Why does my headset rub the paint off the top of the horncasting?? There must be an option other than increasing the headset height and therefor the gap. Any ideas? I hope you are doing well. Best wishes, need a cat?, Coltrane''
These are pics of Theresa's black, chrome, and polished aluminum (with a few gold bits for good measure) MK II D. She also rides her TV3 or her Ducati Monster on the street, and rides another Italian make in select ASRA stock class events.
This D has a really good looking expansion chamber with a really fine chrome job, and everything elso on the bike is chromed or polished out of it's gourd; SSSHHHHWEEEET!




Theresa and her friends invited me to go on a ride to the car show in La Mesa, next to San Diego, and it was fun. The car show was really good. Then we went to Dirks in Lemon Grove for beverage testing (yep, that's a rum and coke all right, pretty good one too!) Then we started off to The Tower but my throttle cable came out of my Mikuni and I had to stop and fix it and everyone else kept going. Oh well, so what. The car show was really good.


EIBAR ARTICLE ON 10-1-02

Josep Joan Berenguer of Catalonia sent these outstanding pics and correspondence: ''Here I send a picture of my Jet200 Serveta. Built in 1967 in the Basque Country (Spain) by Serveta, under Innocenti licence, and of my own since 1968, it was completely restored two years ago. I was still an student when I purchased it and so it is now my most beloved vehicle.''
''At that time, mid-late 60s, all the parts were supplied by Spanish manufacturers since the country was enough industrially developed to produce not only scooters but also cars, lorries and nearly any kind of industrial product. Our sad and terrible Civil War was already something of the past.''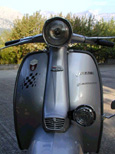 ''By the way, Eibar is the name of the town where the Serveta was manufactured. It belongs to the Basque Country, now again in conflict because some groups want to separate it from Spain and reach the independence.''
''My scooter was built in 1967 and the Jet200 that you saw on the west coast of the USA in the late 70s and early 80s, came much later. So it may be that my scooter was closer to the Italian models than the last ones. Take into account that Innocenti closed in 1971, so, from that time till the early 80s Serveta was fully free to change the original Italian models. Serveta ceased definitively its activities in 1989, they could not withstand the Japanese invasion.''




''I attach another photo showing the receptacle for the air filter. As far as I know, only the Italian models and first Servetas have it. Later Servetas supressed this item as well as the disc brake.
The restoration would not have been possible without the help of my friends of ''Cambridge Lambretta'' UK, that have supplied me with parts very difficult to find anywhere else.''
Hopefully could you include it in your album.
Best regards, Josep Joan Berenguer
Catalonia (Spain)


I'm told that this was taken at Scooter Rage 2002. Tired of paint? There are lots of other things to cover your Lambretta with. This one requires no periodic rubbing out, no worrying about chips and why sweat factory originality when you can generate your own? Just the occasional vacuuming and a yearly shampoo with Quell should keep it tidy. Will the person responsible for this special do please write in with some inspirational scripture detailing this scoot, I'd love to credit the artist.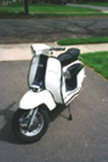 Doug Day sends pix of this wonderfully recesutated Lambretta,
proving the superior styling and design of the make.
''The scooter is a 65 Li150 Special, I replaced the original motor with the complete Imola engine from WCLW that Vince had put on ebay. The Yamola is from some of the Yamaha parts. I can send you the link to the auction if you want to see that complete list of what went into the engine. Beyond that I have replaced every cable, the brakes, fork bearings, switches, rear hub, rear shock, some really nice rims and added front shocks.''


''Like I said before, it does run great! The only thing I had to have repaired on the body was the front fender which was pretty badly damaged when I got it. She is sweeeet! to look at now though.
We are just getting a real club going up here in CT (currently know as CT Scooter Riders)and maybe I see some real interest from the group. Should be a lot of fun. Thanks again.''


Todd Bartholomew of the East Bay Wreck'n Crew Scooter Club is none too subtle about his preferance in scooters. And now a few words from the man himself:
'74 Serveta LI150, This bike I got as a b-day gift from a good friend back east. His mother owned an antique shop & this was their for several years. This bike is completely standard and when I first sent it over it had 11 original miles on it.
'78 Serveta Jett200, Tired and true lamby! I rode this bike everyday for 8 years straight with only flats & fouled plugs! Custom paint & tuned to a stage 6.
'69 Italian GP200, Dream machine.....ground up restoration with all Innocenti body and internals used where/when possible. Modified to all end with looking like a race machine.
The blue bike in upper left is a '74 Elibar 150S under restoration. New ''Ford Blue'' paint w/TS200 powerplant.


Todd's shop, FUNSPEED TUNING, is located in East Oakland, Ca. where he's by now I'm sure earned himself his Doctor of Servetology (D.S.) degree. Contact him via e-mail at todd@sunrace.com if you need help with your Serveta or even with those Italian type Lambrettas.


Just in time for Christmas, Darrin Jones of Mill Valley, California debuts this SUPER sweet, mega tasty fresh LD Mk III for all his Marin neighbors to practice their jaw-dropping on. And lemme tell ya, this bike looks even better in person, as this display can't do justice to the sublty of the two colors of paint. Darrin will undoubtedly donn (or is it Donner) his matching modernist red/white Santa suit and ride around Christmassing everyone out and driving all the reindeer wild or my name isn't jonbretta.
Darrin bought this Lambretta, originally from Minnesota or Michigan, from his friend Theresa and then submitted it for a complete ground-up restoration at West Coast Lambretta Works in San Diego, Ca., where it was completely refreshed right down to its original spare tyre rack as pictured.
Real style is timeless.


Nyle Schafhausen of Costa Mesa, Ca. tauts us with this tidbit of history for the time being hidden away in a secret location somewhere on the west coast.
''It was purchased in Texas from a woman whose husband died. He was in the military in the late 50's and was stationed in Italy. She said that he was a General's Aide and that he used to drive the general around in the sidecar. She said that it was running as of when her husband died in 1991.''


Nyle bought it in May of 1999 from a man in Huntington Beach and plans ''to restore it back to stock one of these years''.
And he says that as part of the job he'll put back to new these two plates from the sidecar. Go Nyle!



San Diego resident Matt Freed's daily chore; deciding which of his Lambrettas to ride on a given day. Pictured on the left: Serveta TS1 ASRA Specials Class racer, LI 150 Series II with GP200 mill under the hood, Series III LI 150 upped to 175, LD 150 XP. On the right, Matt's latest aquisition looks suspiciously not like any Lambretta this editor has come across yet. However it is fast, looks good, is the future of scootering, and he swears it's Italian.


From Salt Lake City, Utah, Paul Baczuc sends TV Trilogy : ''Here is a rare event when the TV 175 trilogy is complete. From left to right, the Series III, Series II, and Series I Innocenti TV175 Lambrettas. These machines are in Utah and ride occasionally together.''


John Sisson of San Diego, Ca. serves up 'Split Pea', your basic soup-colored TV II. ''I got it as boxes of parts but it had no frame and was also missing most of the sheet metal so I got those things and built myself a TV II. What year scooter is it? You call it.'' Now rebuilt and a daily driver in 2002 and with a mysterious flood-at-starting problem that I haven't taken the time to figure out, I just turn off the fuel about a half block from my destination and I don't have to figure it out (for now). Runs great!''
Post script: now in 2004, drive it all the time, never misses a beat except when some part wears out or breaks, like recently when the fan came loose on the flywheel and locked up the engine; I fixed it. The shocks front and rear are totally shot, so what. Runs like a f**kin' TOP!